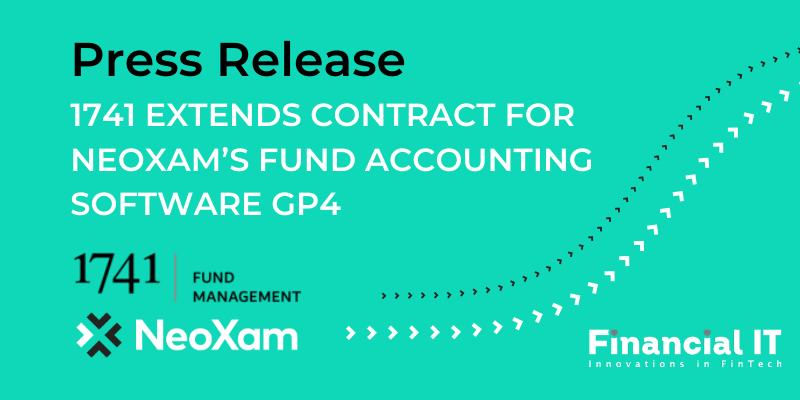 From Financial IT:
NeoXam, a leading financial software provider, and 1741 Fund Management have renewed their partnership for the next five years. The project to move to the latest software generation of NeoXam's GP4 has already begun.
1741, a fund manager with roots to Switzerland's oldest private bank, relies on the Standard Software GP4 which is well established for Fund Accounting and used by global investment firms, fund managers and asset servicers worldwide for decades.
For 1741, the solution is maintained, hosted and operated by NeoXam. The new generation of NeoXam GP4 provides additional features to even better support Private Equity as well as Real Estate investments, two trends that an ambitious player such as 1741 is giving the right attention to.
With a fresh UX Design and the Chain Manager, GP4 is more intuitive to better assist the different personas that use the Software in their daily chores. As 1741 is continuously optimizing its already efficient structures and processes, this key requirement clearly needed to be addressed. The daily chained processes are automized through Robotic Process Automation (RPA), which is an integral part of GP4.
Commenting on the new agreement, Markus Wagner, CEO at 1741 Fund Management, says: "1741 is very excited about this long-term and strong partnership with Neoxam and convinced to have the best software solution for us and in consequence for our customers. We are more than excited to benefit from the next generation GP4, giving us new possibilities and solutions for our daily work streams."
Philipp Sfeir, General Manager of the D-A-CH region at NeoXam, is adding: "A trusted partnership is priceless in times of global economic uncertainty. It only took a virtual handshake, then the team immediately started to work on the upgrade project. The signed contract followed. I am thrilled to continue the exciting journey with 1741 and to contribute with NeoXam GP4 in delivering value to their customers."