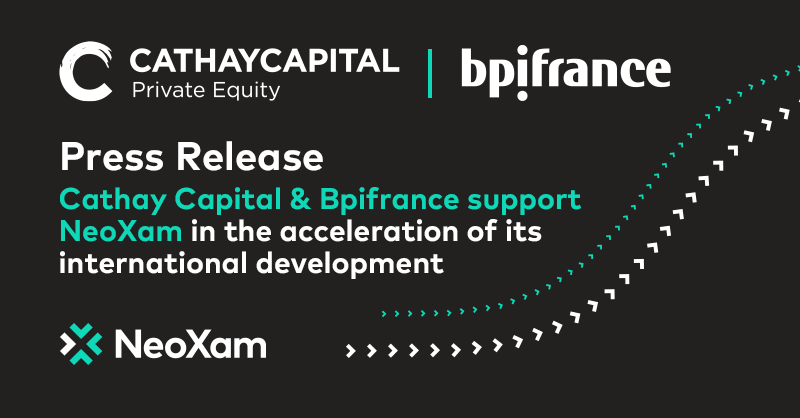 Cathay Capital and Bpifrance today announced that they have signed an agreement to acquire a majority stake in global financial software company NeoXam from BlackFin Capital Partners.
The deal comes off the back of a sustained period of growth for NeoXam, a provider of data management and transaction solutions to financial institutions. Over the past two years, the French based firm's (62.5 M€) revenue has increased by +25% and it has signed more than 32 deals and hired over 150 employees.
In close liaison with BlackFin, the executive committee at NeoXam chose Cathay Capital due to its resources and ecosystem developed in Europe, China and the U.S and Bpifrance for its institutional footprint.
With these new partners, NeoXam's management intends to leverage on the strong growth of the market and the technological assets of its data management, portfolio management system and back office solutions to pos
ition the Group as a global leader. With the global footprint of Cathay Capital, Neoxam will develop its presence in key markets, particularly APAC and the U.S.
Commenting on this signing agreement, Serge Delpla, Founder and CEO at NeoXam, said: "Since 2014, we have been creating with BlackFin a new leader, aggregating together established software and seasoned teams with fast-growing French gems. This audacious and entrepreneurial partnership has been fully successful. Now, Cathay Capital's proven track record and Bpifrance's institutional strength will be pivotal in providing us with the resources needed for NeoXam's expansion plans. Our global business will undoubtedly benefit from the Cathay Capital network, particularly in China and North America, to continue to deliver world-leading financial solutions to our customers."
Hervé Descazeaux, Partner at Cathay Capital, added: "NeoXam is an industry front runner with a renowned reputation for delivering innovative data management and transaction solutions. Through this partnership, our platform bridging three continents and the strong international experience of our teams, we hope that NeoXam can continue its impressive growth rate, and we can facilitate investment into research and development, so they can expand their offering."
Benoist de Saint Lager, Investment Director at Bpifrance, concluded: "Demand for new software solutions in the asset management sector is expected to grow significantly in the coming years. We are looking forward to work with NeoXam's team to help them grow and strengthen their leadership status in a European financial ecosystem we know well. Besides, we are pleased to partner once again with Cathay Capital."
Laurent Bouyoux, Chairman at BlackFin Capital Partners, said: "We are proud of the robust and profitable model achieved by NeoXam in less than 4 years after its carve-out led by BlackFin, thanks to successful organic & external developments. We have been very supportive of Serge Delpla and the management in their ambitious geographical expansion strategy, which allowed Neoxam, initially France/Europe focused, to become a truly global player."
The final closing of this deal is expected for the end of May. Terms of the transaction were not disclosed.