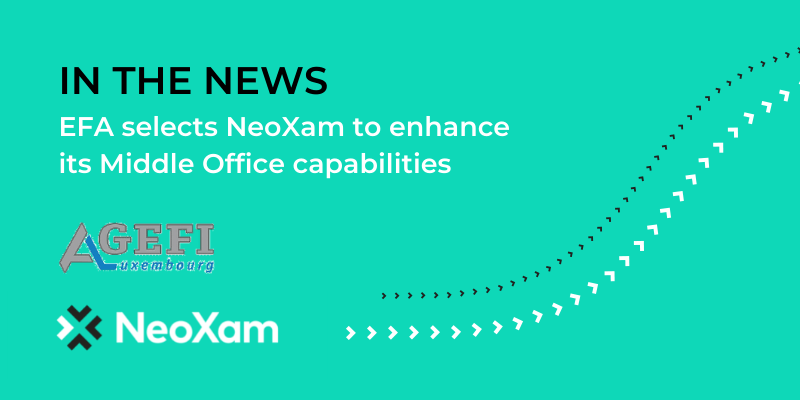 Luxembourg fund administrator, EFA, has selected NeoXam for a core Trade Settlement service based on NeoXam Tracker3, with a strong focus on the CSDR (Central Securities Depositories Regulation) requirement, alongside a bespoke digital reporting project.
NeoXam Tracker3 allows EFA Middle Office service to track the entire settlement process of all active trades in near real-time.
A dedicated online dashboard application has been designed to enable EFA's clients to have digital access to the settlement status of their trades.
NeoXam's software is designed to meet CSDR's objectives of improving the efficiency and transparency of settlements in Europe.
This decision both reinforces and expands the long-standing relationship between EFA and NeoXam, initiated with the adoption of the back-office investment accounting tool NeoXam GP and lastly with the reporting solution NeoXam Impress Regulatory Edition.
Gary Janaway, COO at EFA, said: "With increasing demand from clients to cater specifically for the requirements around CSDR, extending our long running partnership with NeoXam was a natural decision. This new digital dashboard perfectly complements EFA's existing trade management solution, designed to prevent trade settlement failures and support multi-custodian/broker trade flows".
Pascal Chabelard, General Manager Benelux at NeoXam, added: "We are constantly looking for innovative ways to help our customers drive efficiency and respond to the latest regulations. This bespoke project for EFA is designed to address the challenges thrown up by CSDR & help EFA's clients to reduce the number of trades that are failing to settle. We've worked closely with EFA for over two decades now and look forward to continuing to support them in their growth."