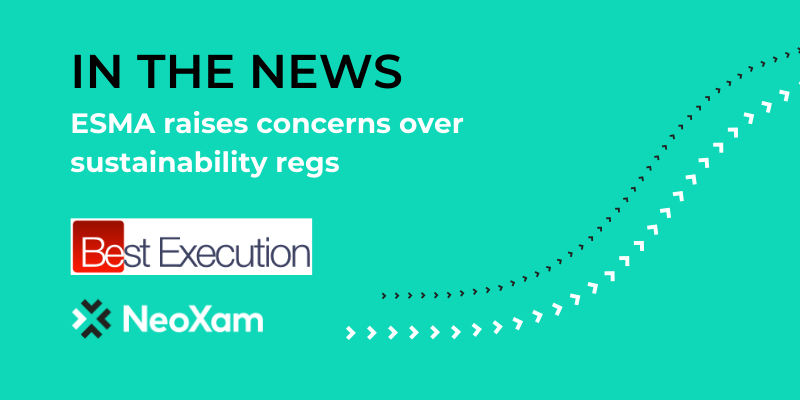 From Best Execution:
The European Securities and Markets Authority (ESMA) has responded to the European Financial Reporting Advisory Group's (EFRAG) public consultation on the first set of draft European Sustainability Reporting Standards (ESRS).
ESMA highlights its support for a strong materiality assessment but expresses its concern with the suggested 'rebuttable presumption' approach.
While all mandatory disclosure requirements shall be presumed material, this presumption is rebuttable if undertakings have reasonable and supportable evidence.
According to the ESMA response, "the presumption provides counterproductive and sometimes even conflicting incentives which may decrease the disclosure quality… When undertakings decide to rebut this presumption and avoid providing certain disclosures, they shall produce ad hoc explanations to back up this decision.
There are a number of issues that, in our view, make this approach problematic."
In addition, ESMA identified concerns that reporting material information not be "obscured by an overload of disclosure points and consequent voluminous reports."
The notion of what will be considered material to reporting is of key importance to investors, as its definition within the ESRS will build into reporting standards underpinning sustainable investment activity across the EU.
ESMA stressed that it was "particularly important" that EFRAG assesses whether, due to their granularity, some of the proposed requirements in the draft should be widely applied or are relevant mainly for certain sectors.
The European securities regulator also encourages EFRAG to continue engaging with the International Sustainability Standards Board to ensure further alignment of the ESRS and the IFRS Sustainability Standards to benefit both users of sustainability reporting and the companies that prepare the reporting.
In addition ESMA delivers several more technical remarks on the details of the draft standards.
The draft ESRS are a key element to achieve the Corporate Sustainability Reporting Directive's (CSRD) ambition of ensuring sustainability reporting which is relevant, reliable, comparable and understandable.
The CSRD is the new EU legislation requiring all large companies to publish regular reports on their environmental and social impact activities. It also includes a common reporting framework for non financial data.
Companies must submit their report aligning with the CSRD on 1 January 2024, for the 2023 financial year.
It is anticipated that EFRAG will deliver the final draft of the ESRS to the European Commission in November 2022.
"This clarity around reporting will be welcomed by the industry," said Kifaya Belkaaloul, head of regulatory, at data management provider NeoXam.
He added, "While financial institutions are buying ever more ESG information, there remain shortcomings that could prove damaging for firms as investor demands for sustainable investments and risk management processes rises.
It may also be costly as regulators begin imposing reporting and disclosure rules on them."