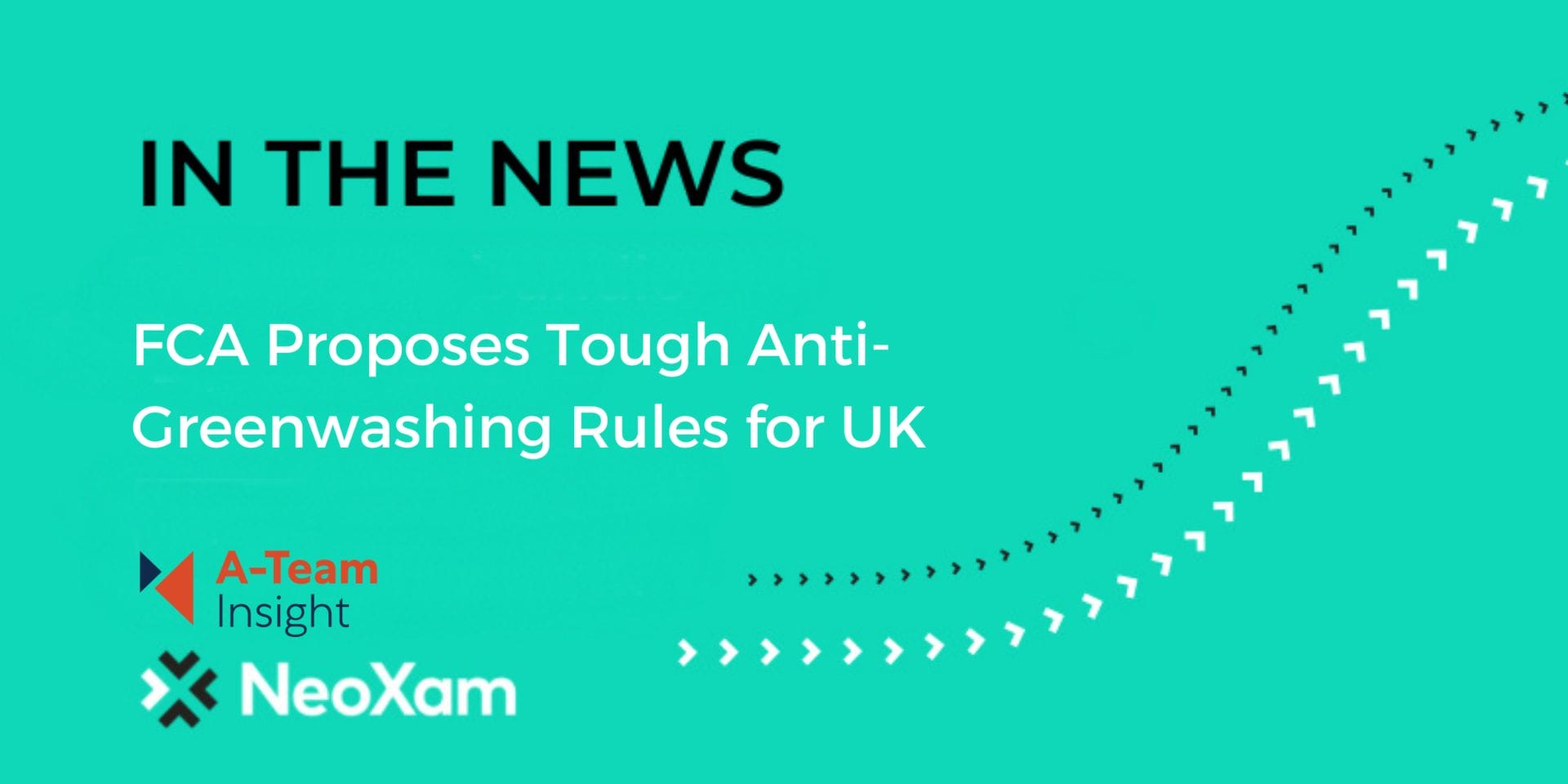 From A-Team Insight:
The UK's financial regulator has issued its toughest set of proposals yet to crack down on greenwashing.
The Financial Conduct Authority's (FCA) proposed Sustainable Disclosures Requirements contains a list of measures, including rules on labelling of green financial products and restrictions on the language that can be used to describe green investment instruments, that it hopes will prevent the exaggeration of the sustainability of products like mutual funds and corporate bonds.
The regulator said the proposals are designed to protect investors and boost confidence in sustainable finance markets.
"Greenwashing misleads consumers and erodes trust in all ESG products," said the FCA's director of ESG Sacha Sadan. "Consumers must be confident when products claim to be sustainable that they actually are. Our proposed rules will help consumers and firms build trust in this sector.
The proposals consolidate rules that the FCA has been hinting at creating over the past few months. They follow notice from the US regulator earlier this year that it will begin insisting companies report on the environmental impacts of their activities. Both sets of overseers had been criticised in the past for dragging their feet on introducing ESG rules.
Objective Criteria
The London-based FCA said it will break down sustainable finance products into three categories according to their degree of sustainability, including one that highlights when a product has been improving over time. The designations will be "underpinned by objective criteria", the FCA said.
Product names will be governed by stricter rules on the use of words like "green" and "ESG" to prevent over-reach in their claims. That will be part of a broader anti-greenwashing rule to prevent investors being misled.
There will be more disclosures to better inform investors about sustainability-related features in the products, and distributors will be required to ensure labels and descriptions are "accessible and clear to consumers".
"This supports investment in solutions to some of the world's biggest ESG challenges," said Sadan. "This places the UK at the forefront of sustainable investment internationally. We are raising the bar by setting robust regulatory standards to protect consumers in line with our wider FCA strategy."
Greenwashing has become a core concern as green markets have grown and inflows to sustainable funds have ballooned. Bloomberg estimates that about US$50 trillion will be tied up in green investments by the end of the decade.
British and American regulators have also strengthened their positions as a backlash against ESG investing, especially in the US, has threatened to undermine confidence in the sector.
Media reports said the proposals have been shared with the International Sustainability Standards Board (ISSB). Observers suggest the FCA hopes other regulators will follow its line.
Data and analytics companies have welcomed the measures, which will go out to consultation among market participants until 25 January 2023. Kifaya Belkaaloul, head of regulatory at NeoXam said the onus now is on "financial institutions to take control of the evaluations process".
"Ultimately, firms have to be able to harness the data that underpins these ESG ratings, and present it in a simple, clear way to investors and regulators alike," Belkaaloul said. "That is the key right now to demonstrating a data-driven understanding of the credentials behind ESG claims – but it all rests on the data management systems being utilised being up to scratch."
Gayatri Raman, president Europe and Asia at Clearwater Analytics. said: "The FCA rightfully stresses the need for more detailed disclosures for institutional and retail investors alike – key to this is having a robust data infrastructure supported by first in class reporting capabilities."