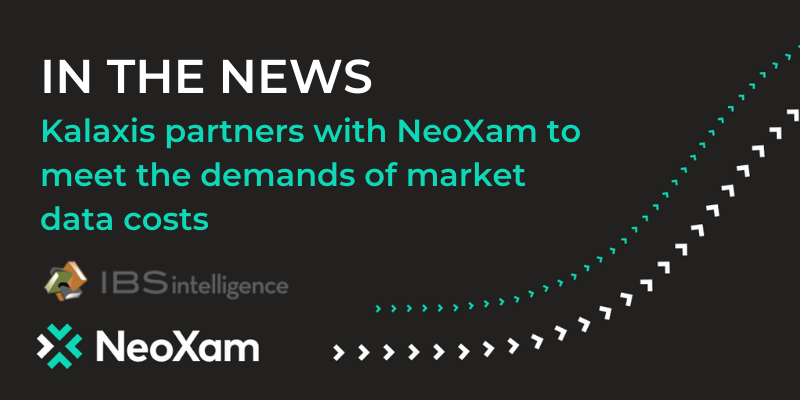 From IBS Intelligence:
Kalaxis, a consulting company specializing in helping financial institutions reduce their market data costs, and NeoXam, a financial software editor serving over 170 financial institutions, collaborated to combine their knowledge and capabilities to deliver both consultancy and new software modules to support data cost optimization.
The demand from financial institutions for specialist external consulting expertise continues, driven by a combination of factors: the continual need to reduce market data spending, complex data vendor pricing policies, a lack of transparency of operational data flows and usage, and the growing competitiveness of the various data vendors and their offerings.
Kalaxis and NeoXam will partner to offer the proven rationalization review to identify all potential savings, delivered in a report with supportive and detailed metrics. These findings can then be provided and managed over the long term, with the non-intrusive implementation of the optimization and monitoring modules.
NeoXam provides slicing and dicing monitoring capabilities, including alerts, which can track who is consuming what, when, and why. This solution can operate both standalone or as an add-on of the NeoXam EDM: DataHub.
Jean-Pierre Gottdiener, CEO and Founder of Kalaxis commented. "In the last 12 – 18 months, we have seen a substantial growth in demand from financial institutions of all sizes, buy and sell-side for our services. We are confident the partnership with NeoXam will prove to be very successful and result in providing our clients are more complete solution to their needs."
Recently, IBS Intelligence reported that Financial software group NeoXam had announced an enhancement to its partnership with Itiviti that enables buy-side customers to exchange FIX messages with the sell-side through the NYFIX Order Routing Network as leverage NYFIX Matching to streamline the post-trade matching process.