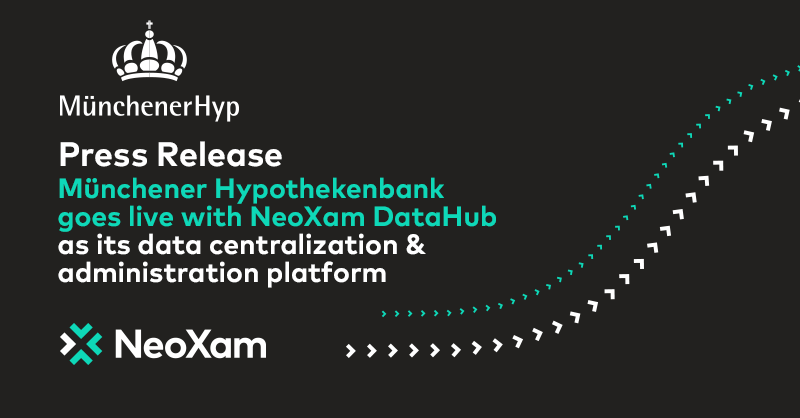 NeoXam, a leading provider of data management and transaction software solutions dedicated to the financial industry, announced today that Münchener Hypothekenbank eG (MünchenerHyp), one of the leading German experts for long-term property financing based in Munich, has gone live with NeoXam DataHub to house all its data and administration in one platform.
Recent times have seen increasingly stringent regulatory constraints come into play which are transforming how firms interact with and manage data. For regulations like FRTB, firms need to manage at least 10 years of historical prices and associated metadata in order to comply. Consequently, financial firms now need to strategically plan for and consistently manage information flows with a reliable data quality monitoring system based on a single, centralised source of data.
As a result, MünchenerHyp has chosen this customisable solution for its scalability and flexibility in the face of current and future regulatory requirements. The solution, that was implemented with the expertise of German consulting firms Finbridge and FORRS, now enables the company to automatically process all the financial market information it uses and significantly reduce the level of operational risk by providing a clear audit trail and considerably improved data quality.
Thomas Raab, Project Manager, at MünchenerHyp, said "it's difficult to find a solution which offers both excellent data models and a high level of flexibility, and this is what made NeoXam's DataHub the best solution for our needs. We are looking forward to working with this model and are confident that the solution's capacity to cope with huge volumes of data and process workflows means it will support us through future growth and business evolutions in accordance with the regulatory requirements."
Florent Fabre, Managing Director and COO at NeoXam, said "with the increased regulatory reporting requirements, banks are now looking for a simple way to access all of their data in one place rather than having to pull data from multiple parts of the business. By deploying DataHub, MünchenerHyp will avoid any regulatory or data management headaches, whilst also having a scalable solution which can grow with them."
Jördis Helmers, Senior Manager at Finbridge, said "NeoXam's flexibility allowed us to meet all the needs of MHB. The challenge was to evaluate the possible solutions within DataHub to do this the optimal way. We succeeded and see huge potential to also cover further business requirements in the future with the DataHub solution."
Markus Rieß, Managing Director at FORRS, said "Data Hub and NeoXam have made a strong impression already during the market evaluation phase, and have proven that a complete business-ready installation can be built in months."