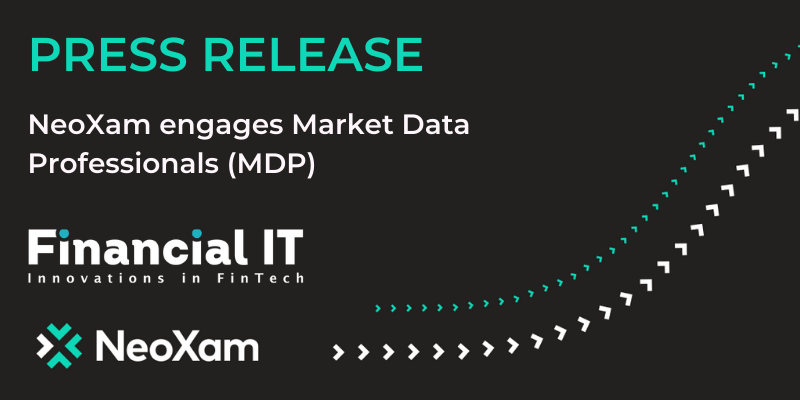 Frankfurt – April 7, 2021
NeoXam, a leading financial software company, has signed a strategic agreement with MDP, experts in market data management.
The personalities behind forming an alliance with NeoXam are Kees Brooimans, Peter Fruitema and Albert Vliegen who have been in the market data arena for more than 30 years each. They have played an active role in shaping the industry with Kees and Peter being the founders of Screen Group which became one of the world's leading boutique (software and consultancy) firm specialized on market and reference data advisory services for the Financial Services industry.
Their expertise alongside NeoXam's award-winning enterprise data management solution NeoXam DataHub, are geared towards solving today's key challenges of financial institutions. One of those challenges is the rise of market data costs. NeoXam's DataHub platform enables financial institutions to better understand and tackle a wider breadth of market and reference data challenges such as data cost, multi-vendor strategies, reconciling various sources and SLA management.
Philipp Sfeir, General Manager D-A-CH region at NeoXam, says: "Working with MDP will raise awareness about the pressing data challenges that the financial industry faces. MDP's industry experience, product know how and unique relationship network enables NeoXam to extend the reach of our established DataHub platform. As the market landscape evolves, we are keen to help more buy side and sell side firms to deal more effectively with the explosion in data demand and costs while ensuring operational efficiency."
Kees Brooimans, Managing Director and co-founder of MDP adds: "We are excited to support a proven international Data Management player like NeoXam position their business in the D-A-CH region. With our long year industry experience, sales and marketing skills and relationship network we are confident to help boosting success."