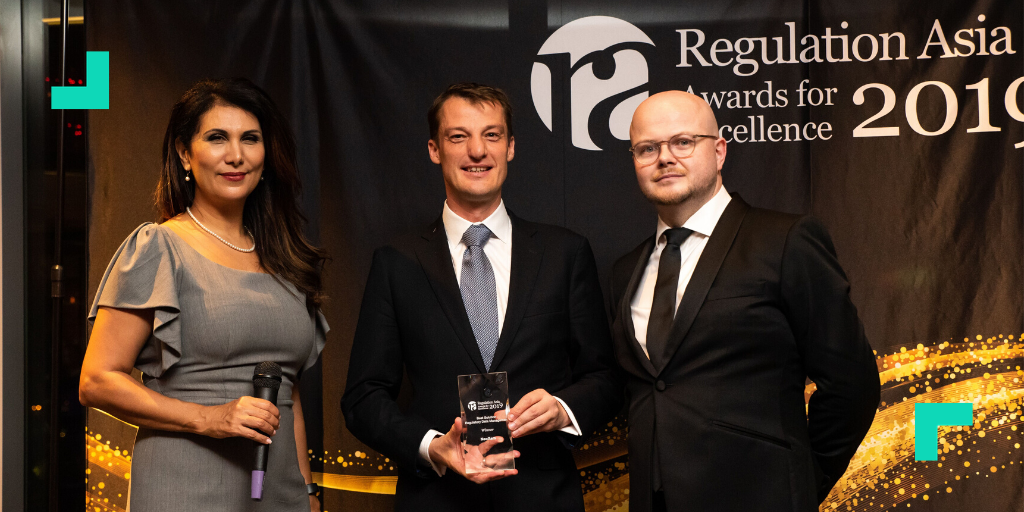 Singapore/Hong Kong, 14 November 2019 – NeoXam has been awarded Best Solution in Regulatory Data Management in the 2nd Regulation Asia Awards for Excellence 2019 at a ceremony in Singapore on 13 November 2019.
Following a rigorous selection process involving a judging panel made up of subject-matter experts and the Regulation Asia editorial team, NeoXam emerged as the winner for its unique enterprise data management solution, known as DataHub.
DataHub was introduced as a direct response to the challenges associated with aggregating and managing vast amounts of trade and market data and accurately reporting of financial positions to the regulator. The solution consolidates and centralises a securities master file fed from different sources, integrating all trades and positions for better risk and compliance monitoring.
Through DataHub, buy-side users can create new reference databases in much less time and at less cost than for standard market solutions or an in-house solution. This is because NeoXam's standard data models cover the majority of of the needs of any financial institution, and they are additionally adaptable to accommodate any type of financial data.
NeoXam's DataHub solution stands out because it implements a standard data model in a flexible structure, providing an efficient repository architecture that can be scaled to client needs, said one judge.
"This company has a very unique data driven platform solution that can be useful in multiple use cases without prescriptive applications due to unstructured data," said another judge. "The real time data model gives NeoXam an edge over other firms and it embraces transparency as it should."
About the Regulation Asia Awards for Excellence 2019
Regulation Asia Awards for Excellence recognises technology companies, legal and consulting firms, and exchanges that have shaped the regulatory landscape in Asia Pacific, as well as outstanding technology projects both in mature and emerging markets by large tech firms and innovative startups that help meet the requirements of a specific regulatory change infrastructure.
For a full list of award winners, visit www.regulationasia.com/awards.
About Regulation Asia
Regulation Asia is the leading source for actionable regulatory intelligence for Asia Pacific markets. Since 2013, our audience and subscription base have grown to include regulatory bodies, exchanges, banks, asset managers and service providers, allowing us to play a key role in the regulatory agenda.