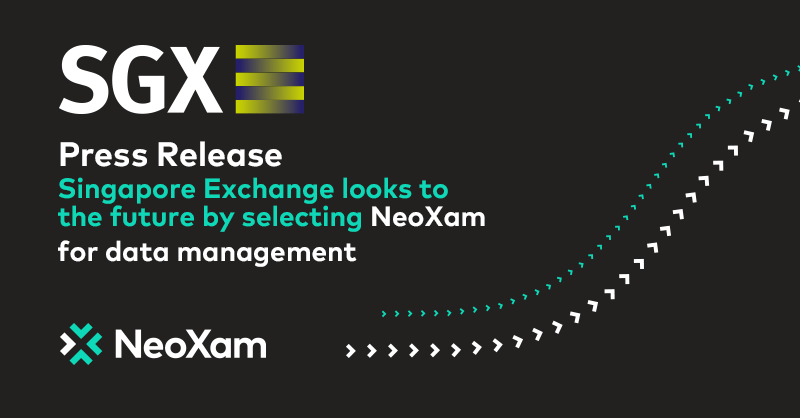 Singapore Exchange (SGX), a multi-asset class exchange operating in the equity, fixed income and derivatives markets, has selected NeoXam, a leading provider of data management and transaction software solutions dedicated to the financial industry, to create a central data repository to store reference and corporate actions data.
In an era of business diversification, stock exchanges are no longer simply venues where one can buy and sell securities. Exchanges like SGX which are horizontally and vertically integrated need to manage a considerable number of complex data and workflows. Hence, with the help of NeoXam's DataHub, SGX has launched the Reference Data System (RDS), which creates a central data repository to house all their instrument related reference data and corporate actions in one place.
Given the rapidly evolving nature of the industry, firms need a solution in place which can be easily enhanced to follow market trends and be agile in aligning their data dictionary to the industry's needs. NeoXam's scalable solution was the most suitable platform to establish the RDS. Besides acting as the central source within the exchange, RDS facilitates the creation and delivery of the reference data market facing feed. This SGX reference data feed is available to any party interested in timely and accurate Singapore security, issuer and financial statement data. The same data sets can be used in parallel with SGX's existing Corporate Actions Feed service for an enriched offering. NeoXam's software will also support future enhancements such as the automatic generation of events and introducing more data products within the platform.
Ng Kin Yee, Head of Market Data and Connectivity at SGX, said: "We were looking for software which could be scalable, whilst having the capacity for our team to maintain the system internally. NeoXam's DataHub allowed us to adhere to ISO and industry conventions, with the flexibility to adapt to changing data demands of the industry."
Tim Versteeg, General Manager at NeoXam APAC (ex. China), said: "The infrastructure of an exchange and numbering agency like SGX has to meet the highest regulatory and global standards. We are thrilled to work with SGX to achieve and continue to ensure compliance in a smooth and cost-effective manner by utilising our out-of-the-box, adjustable data models and workflows, which enabled a swift and agile implementation."