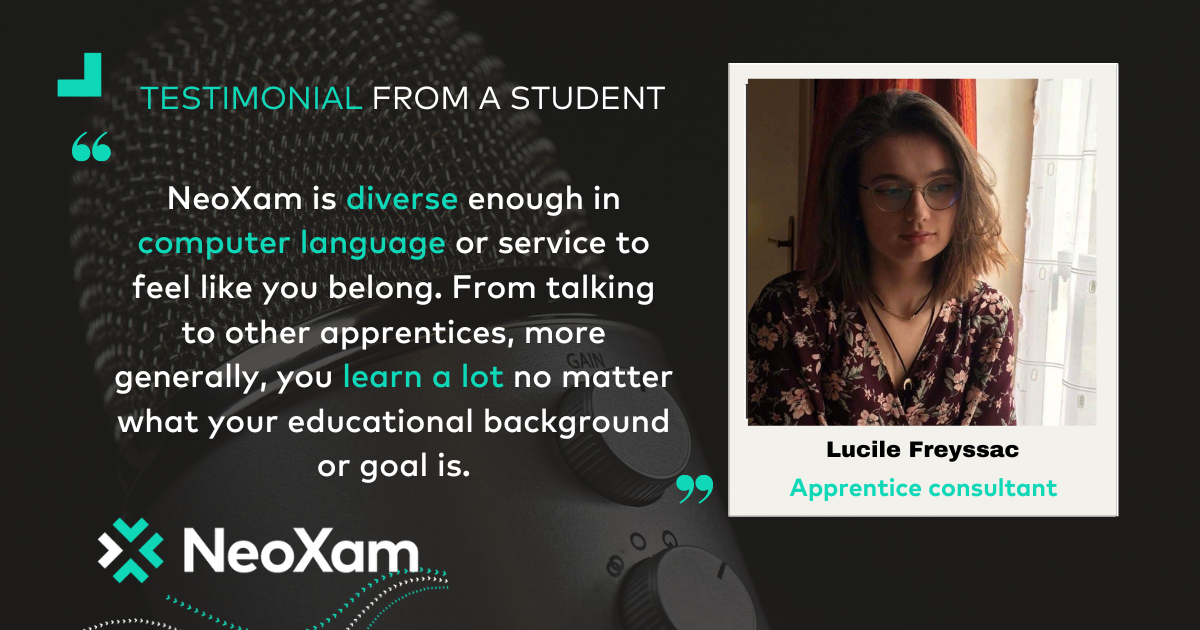 Can you introduce yourself?
My name is Lucile Freyssac. I'm an apprentice Consultant Tracker specializing in the development of the portfolio investment software Tracker, at NeoXam. I've held this role for a little over a year. In parallel, I'm a student in the last year of a master's MIAGE at the UEVE Paris-Saclay.
Why did you choose the tech sector?
Since I was a little girl, I was attracted to the IT sector. In high school, I had an optional course called "DP3" which allowed me to look into the question of career discovery. In middle school, I prepared a school course to become a webmaster. I also did my 3rd year internship with a freelance developer/computer scientist.
Why did you choose NeoXam?
It's thanks to a friend that I know of NeoXam.
I chose NeoXam because the missions proposed by the teams during the interview process and the way of working are in alignment with my values, which I didn't find with my previous employer. It's important for me to work for a company for which professional equality is important. I don't feel like I'm considered just as a woman but as a person with skills. My supervisor has always considered me as an apprentice, giving me the projects/assignments I wanted, a sign that he has confidence in my abilities (as does my tutor).
What are your missions?
I work on C# development, on VBS to C script translation, on software improvement via REGEX. I'm also starting to see what project management is all about.
If you had to describe in a few words your apprenticeship at NeoXam?
I would say that my apprenticeship is enriching, complete and allows me to diversify without being too superficial (not to fly over the various missions, to take time with each of them).
Working at NeoXam gives me a glimpse of development and project management, the link with the client in short, in order to give me a more precise idea of the professional world and of market finance in particular at NeoXam.
What do you like most about NEOXAM?
Apart from the Flex-office atmosphere and the work atmosphere among colleagues, I would say that what I like most is the attention that my mentor pays to my expectations which gives me the impression of being part of a real team.
What I also like are the projects and the perspectives that NeoXam offers.
Do you have any advice for young women who would like to enter this sector?
For women who would like their dream job to be in IT, go for it! Society is evolving and IT isn't just a "male" field. And above all, it is important to remember that the first developers were women! If you didn't know, during the Second World War, women were in charge of all the computing!
Why would you advise young talents to try the NEOXAM experience? Regarding the topic of women in IT, I would recommend NeoXam for its equality and fairness. We are evaluated as people with skills and abilities.
As a "female computer scientist", NeoXam is diverse enough in computer language or service to feel like you belong. From talking to other apprentices, more generally, you learn a lot no matter what your educational background or goal is.