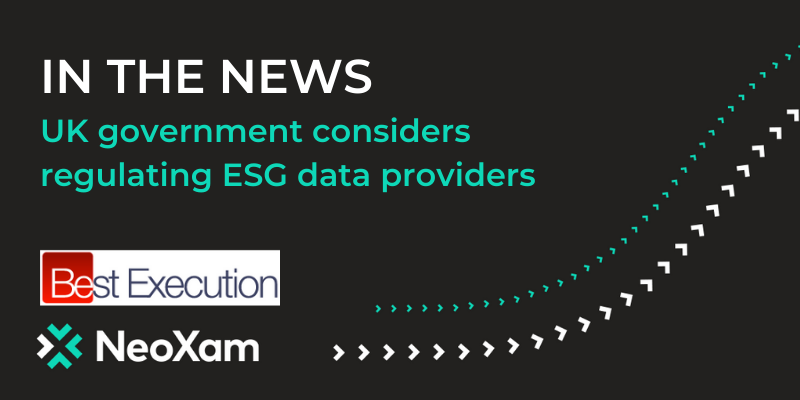 From Best Execution:
The UK government is considering bringing environmental, social and governance (ESG) data providers under the Financial Conduct Authority's remit to help improve transparency and data discrepancy.
This follows on from a Treasury report – Greening Finance: A Roadmap to Sustainable Investing, outlining the framework for the UK's recently published Sustainable Disclosure Requirements (SDR).
The report said data providers offer assessments that "may not always be comparable" with "more gaps and assumptions" than ratings in other areas of the market, making it susceptible to greenwashing.
It added, that "it is important that providers deliver ESG data and ratings transparently, and that they have strong governance and management of conflicts of interests.
The government is therefore considering bringing these firms into the scope of FCA authorisation and regulation. The government will set out further detail next year."
"All financial market participants are facing challenges related to sustainability, including how to deal with access increasing amounts of ESG data," says Kifaya Belkaaloul, head of regulation at NeoXam.
She adds, "The UK Government considering bringing ESG data & ratings firms under FCA supervision reflects the significant industry shift towards ESG investing and goes to show that it has never been more importantt for ESG scorings to be fully integrated and accessible in the same way as risk or performance indicators are currently."
There are roughly 600 firms providing ESG-related services, including ratings, data and verification and the numbers are expected to grow significantly in the future.
Research from management consultancy Optimas predicts it could hit the $1bn mark by the end of 2021.
The report also clarifies the framework for the SDRs which was introduced in July and aim to prevent greenwashing and giving investors more information about how investments align with net-zero ambitions.
Investment products will have to include detail for the first time the environmental impact of the activities they finance, and justify any sustainability claims they make to investors.
Asset managers will also need to explain how they incorporate sustainability into their investment strategy to enable consumers to make informed judgements about the kind of firms they want to invest in.
The regime will look to streamline existing climate reporting requirements, including the UK's commitment to implement mandatory reporting aligned with the Task Force on Climate-Related Financial Disclosures (TCFD).