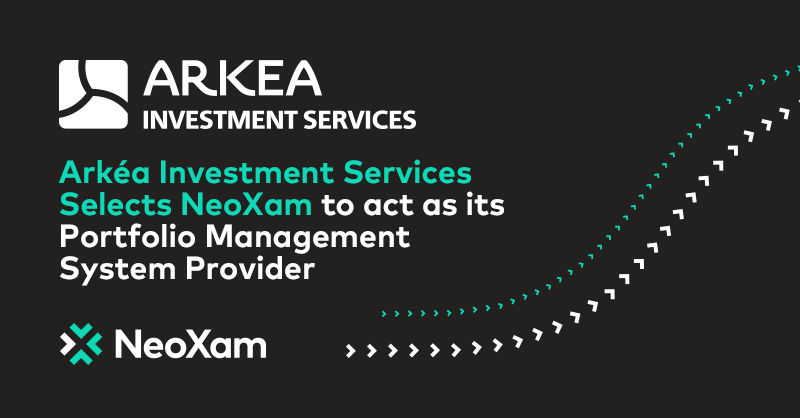 Arkéa Investment Services (Arkéa IS), the asset management and private banking arm of the cooperative and mutual group Arkéa, today announces that it has selected NeoXam, a leading financial technology company, to provide its front-to-middle office portfolio management system for its affiliates, Federal Finance Gestion and Schelcher Prince Gestion. NeoXam Tracker 3 will allow Arkéa IS to manage its complete asset management process as well as support its growth.
NeoXam Tracker 3 will enable Arkéa IS to concentrate all of its activities on one single platform to simplify and harmonize its information system. Thanks to NeoXam Tracker 3's wide functional coverage, Arkéa IS will manage all the requirements of institutional portfolio managers and mutual funds.
This tool will help Arkéa IS to better deal with regulatory constraints and benefit from a state of the art solution to further increase the quality of its services.
Sébastien Barbe, Head of Arkéa IS management board said: "We were seeking a solution that would provide us with a much more comprehensive, automated way of managing our portfolios. For us, NeoXam Tracker 3 fits the bill – its functionality means that we can follow trading positions through the whole process, from electronic order management to matching the portfolio with third parties administrators. We are confident that the NeoXam Tracker 3 platform will help us to attract more asset managers."
Serge Delpla, Chief Executive Officer at NeoXam, commented: "We have worked with the wider Arkéa team for many years now using NeoXam GP3. We are therefore delighted to further support their asset management business with NeoXam Tracker 3. This solution will enable Arkéa IS to continue its growth and development, to better assist its clients by offering a higher service quality. NeoXam Tracker 3 will provide a straight-through processing solution to Arkéa IS."
About Arkéa Investment services – Arkéa Investment Services is the asset management and private banking arm of Crédit Mutuel Arkéa. It is committed to creating solutions helping institutional and retail clients to be confident about achieving their financial goals. Arkéa Investment Services regroups the expertise of 5 asset managers (Federal Finance Gestion, Schelcher Prince Gestion, SWEN Capital Partners, Vivienne Investissement and Mandarine Gestion) and a private bank (Arkéa Banque Privée) and ranks among the leading players in France with more than €50billion of combined AUM.