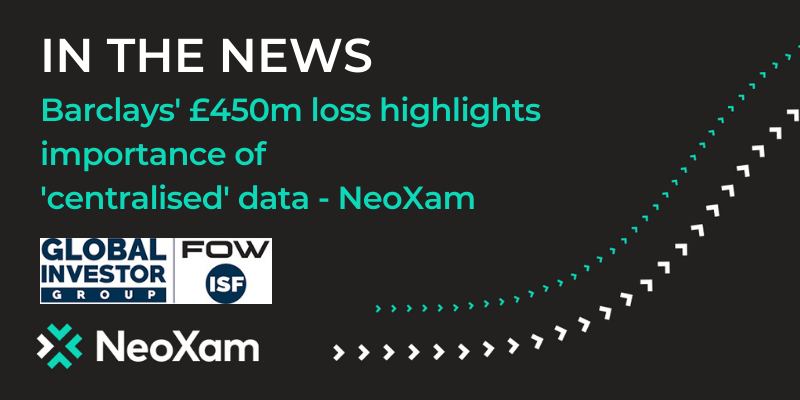 From Global Investor Group:
Barclays' £450m loss due to over-selling structured and exchange-traded notes highlights the importance of a centralised approach to securities data, according to French êntech NeoXam. The UK bank said on Monday it expects to take a £450 million hit after mistakenly issuing $15.2 billion (£11.5 billion) more structured notes and exchange traded notes than it was allowed to sell in the US. The bank, which sold $20.8 billion worth of securities in 2019, now has to repurchase the securities for the price they were originally sold.

Joseph Cordahi, product strategy director at NeoXam, told Global Investor: "Over-shooting selling limits by $15 billion does pose more questions than answers at this stage when it comes to the management of securities data. Would the bank really be in this position if it had fully reviewed the information surrounding the exchange traded notes linked to the volatility in crude oil prices?" Cordahi added: "While more detail as to what happened needs to emerge, the bank would be in a far stronger position from a risk management perspective if its securities data was centralised".

Barclays said in a statement on Monday: "The securities offered and sold under our US shelf registration statement during a period of approximately one year exceeded the registered amount, giving rise to a right of rescission among certain purchasers of affected securities. As a result, Barclays has elected to conduct a rescission offer to eligible purchasers of the affected securities." Barclays said the details of the rescission offer will be published in due course.

Founded in 2014, NeoXam provides a full suite of solutions to the asset management industry including portfolio management, data management, investment accounting and reporting. NeoXam said last year over-the-counter derivatives and structured products firms are increasingly turning to technology to address the challenges of risk analysis and product diversification.