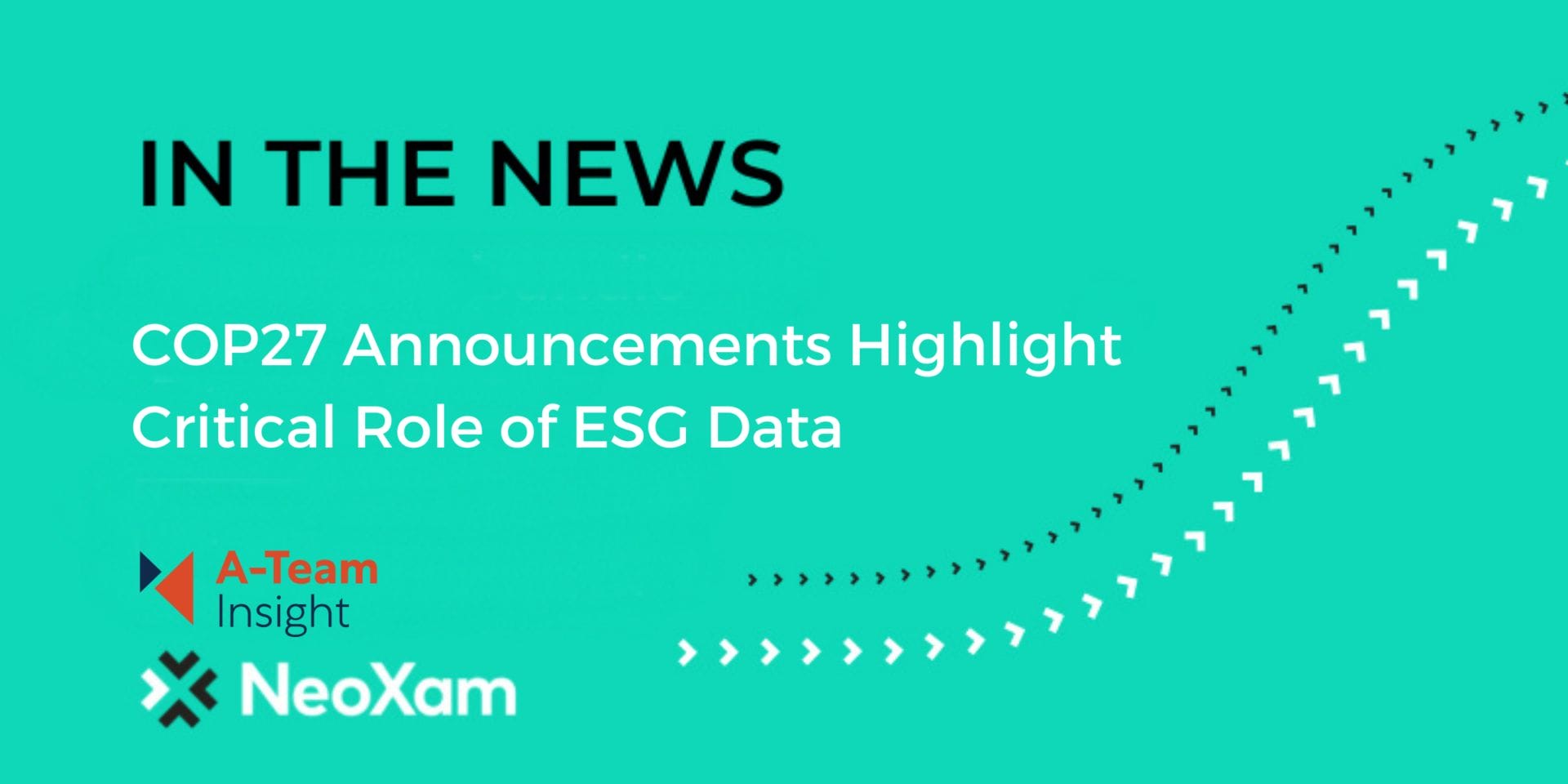 From A-Team Insight:
The COP27 climate summit in Egypt has put ESG data firmly in the spotlight as a key enabler of the financial sector's critical role in solving the global sustainability challenges.
From the formal unveiling of a global plan to make sustainability data accessible to every investor to the announcement of further progress in narrowing in the differences between ESG disclosure standard setters, the news from Sharm el-Sheikh has so far been upbeat.
Nevertheless, the ESG data industry believes more can be done by delegates to the UN-convened meeting to shore up reporting processes and to improve the data transparency necessary for investors to put their capital into the companies and projects that can help mitigate global warming and social divisions.
"COP summits provide an opportunity for governments, companies and international organisations to work together to take action on climate change," Bloomberg's Patricia Torres told ESG Insight. "Capital markets can play a key role in driving change, and at this year's COP27 the expectations are high for new solutions to help investors make better-informed decisions."
Global Database
One of Torres' hopes for the two-week talk shop came on Wednesday, the event's so-called Finance Day.
The Climate Data Steering Committee (CDSD), which was established early this year to bring greater transparency into the progress corporates are making towards their decarbonisation goals, published a detailed proposal for the structure and aims of its global climate database.
The Net-Zero Data Public Utility (NZDPU) is envisaged as a data portal that financial institutions can use to inform their investment and risk-mitigation decisions. The NZDPU is the first major piece of work by the CDSD, which was inaugurated by French President Emmanuel Macron and financier Michael Bloomberg. It is also supported by the Glasgow Financial Alliance for Net Zero (GFANZ), which was established at COP26 in the Scottish city last year by a coalition of asset managers and banks that oversee more than US$130 trillion of investments.
The NZDPU will come into operation later this year, the CDSC said at COP27 and its chair – and GFANZ vice chair – Mary Schapiro stressed that the proposal would help fill gaps in the ESG data record.
The NZDPU would do this by including data from corporates and financial institutions on their Scope 1-3 emissions and it will feature transparent and comparable emission reduction targets, including progress in net-zero plans. Further, it will have an accessible user interface and a transparent data classification scheme, Schapiro said.
Data Consistency
Michael Bloomberg said the project would make climate data consistent and comparable.
"Right now, we have very little data about how much emissions individual companies are responsible for, and what data we do have is not publicly accessible," Bloomberg said in a statement published on his company's news site.
"The data portal, which we are working with governments and data service providers to create, will help fix that, empowering investors to make informed decisions, giving them leverage to push companies to act faster, and allowing the public and policymakers to hold companies accountable for fulfilling the promises they've made."
Within the data industry there was praise for the announcement.
"The industry will certainly welcome this new GFANZ-backed data initiative designed to provide greater transparency and will be up and running by the end of this year," Stella Clarke, chief strategy office at Fenergo told ESG Insight. Clarke said the announcement was particularly important "given the fact that ESG that has emerged from nowhere as a risk factor."
Clarke said the timing of the announcement had been critical because regulatory demands for sustainability disclosures are growing.
"Our recent study of over 1,000 C-level executives across 100 institutional banks found that over a third of firms see ESG risk as a priority for tech investment," she said.
"The implications of regulations such as SFDR are clearly starting to have an effect – meaning that ESG is growing in prominence as an area for technology investment," she added, citing the European Union's Sustainable Finance Disclosures Regulation.
New Standards
More positive news for ESG data professionals came with the announcement that the International Sustainability Standards Board (ISSB) had signed up important global reporting standards setters CDP and the Principles for Responsible Investment (PRI) as well as the "big four" accounting firms.
They make are among about two dozen companies that form the backbone of the ISSB's newly created Partnership Framework, which will help companies prepare to use IFRS Sustainability Disclosure Standards. The standards have been proposed as a global framework by which companies can report their ESG performances.
ISSB said the partnership would help enable the creation and operations of the NZDPU.
ISSB was created at COP26 to bring consistency to international ESG reporting standards. Its creation was welcomed by investors who complain that the current setup – in which companies select from multiple standards setters who work to a variety of disclosure methodologies – makes comparisons of ESG performance difficult.
More Needed
While progress has been made, many issues remain to be addressed. ISS ESG, for instance, said it would like to see more concrete evidence that all parties are working towards their sustainability pledges.
"An increase in ambition needs to be a key outcome if climate targets should remain within reach," Viola Lutz, head of climate solutions at ISS ESG, told ESG Insight. "For data and climate analytics providers that means thinking more than ever in different scenarios and allowing clients to work with different assumptions as they need to navigate a world where – for the time being – the gap between ambition and action continues to widen."
On a general note, data management company NeoXam said the very fact that discussion about ESG in finance was taking place at the COP meetings was cause for optimism. One of the main drivers of greenwashing is the absence of a formal understanding of what ESG investing means, said the company's ESG chief Thierry Duchamp.
"Preventing greenwashing is possible by having a perfectly managed data management system and workflow, and that's where there is an impact" from having a better understanding about what sustainable finance is, Duchamp told ESG Insight.