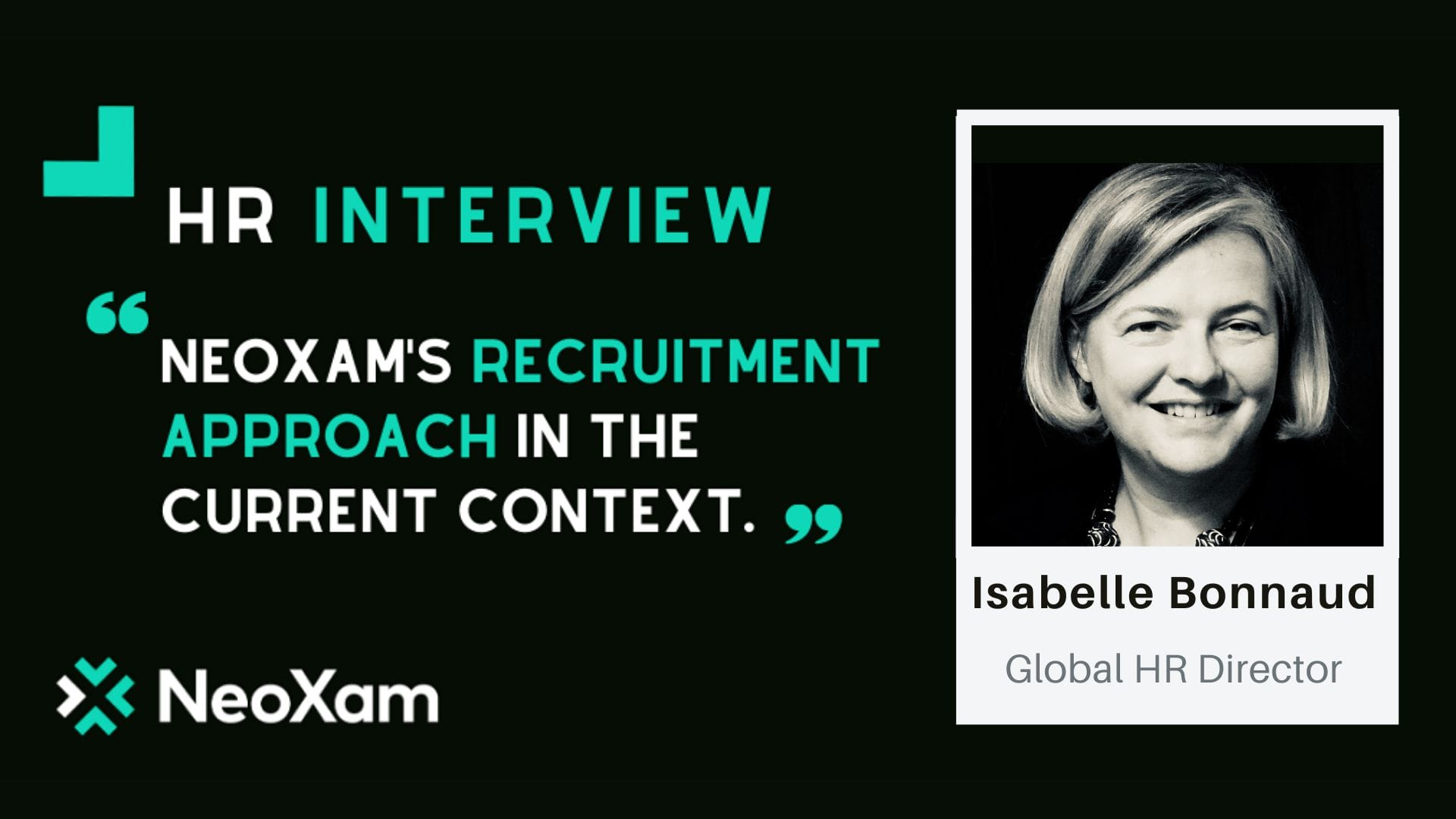 Could you please introduce yourself in a few lines?
I am Isabelle Bonnaud, the Global HR Director at NeoXam Group in Paris, where NeoXam's headquarters are located. We are around 250 employees in Paris and more than 500 worldwide. What matters a lot to me, and which is very rewarding at NeoXam, is that we work with skilled teams who are experts in their field, constantly looking for improvement. Our teams are very cross-functional and we have colleagues in different continents with a lot of interaction between us. Our culture is enriched by this diversity. Open-mindedness and collaboration are our strongest assets at NeoXam.
Could you please introduce your company?
NeoXam is a financial software editor that designs and integrates software solutions for banking, finance and insurance sectors. We ensure the complete coverage of the financial value chain, from front to back office with different software for data management, portfolio management, investment accounting and digital reporting. With more than 500 employees in 4 continents, we have offices in Asia, USA, Europe and Africa.
Could you describe your company's culture in 3 words?
Adaptability
Reliability
Transparency

are our 3 values, applied with our clients but also between colleagues.
What types of jobs do you recruit for?
We are constantly recruiting technical profiles to contribute to our R&D department, such as developers:
– Full stack,
– Java,
– Python,
– C#
At all levels of seniority. We also recruit profiles that we call 'functional' who are close to our clients' business in terms of asset management. We are looking for implementation consultants, business analysts / MOA with knowledge of data management, front to back office, financial reporting.
Are you maintaining your recruitment campaigns in light of the current context?
Yes, we are still hiring despite the current context of the pandemic thanks to telecommuting which has been generalized throughout the company, and respecting sanitary measures which allow us to maintain our activity without overcrowding.
Our customers trust us, and we accompany them on a daily basis, but we also acquire new projects and customers.
Even during lockdown, are able to keep integrating new colleagues. We organize their arrival and their remote workstation. Then, the manager does the onboarding presenting missions and projects with fellow mentors.
NeoXam's "buddy" / mentor system also allows us to give other points of contact to new recruits, because we call on employees working in other professions and departments, in order to get to know colleagues with no work ties other than working in the same company. At a time when it's a bit harder to get to know colleagues without meeting them at the coffee machine, this is also a big welcome.
HR also follows up on the integration process of new employees during onboarding by providing key information and meeting the employee during the trial period and during the integration sessions.
What are the different profiles you are currently looking for?
At the moment, we have open positions with various profiles.
We are recruiting :

– Java developers,
– Full stack,
– C#,
– C++
– but also Tech Lead profiles
– or Cloud experts.

We are also currently looking for product managers to join our Product management Team
Finally, we are still looking for :
– Functional implementation consultants, to work on our software solutions, often experienced profiles who must have technical and functional skills.
Note that our consultants on our data management software do configuration almost 50% of their time, and work with SQL databases.
What qualities do you look for in a candidate?
Each of our employees must have the following qualities:
– Collaboration
– Communication
– Customer orientation
– Result orientation / tenacity
These 4 skills are the subject of an annual exchange of views between the employee and the manager on their level of achievement.
How do you recruit? Is a physical interview always proposed? How is it done?
Our recruitment process is as follows:
– Review of the application received via our HR Information System by the manager and the recruiter.
– First HR or recruiting manager telephone exchange.
– 2 to 3 interviews (at the moment mostly by videoconference) but a physical interview can be scheduled to see our premises in the center of Paris. The 3 interviews includes interviews with :
1.Managers
2.Technical tests or in the opposite direction
3.HR Interview
– Construction of the hiring proposal are sent to the potential employee.
– Contact with our HR assistant to start the on boarding via our HRIS once the offer is accepted.
– Transmission of administrative documents
– Drafting of the employment contract
– Welcome by the manager and the HR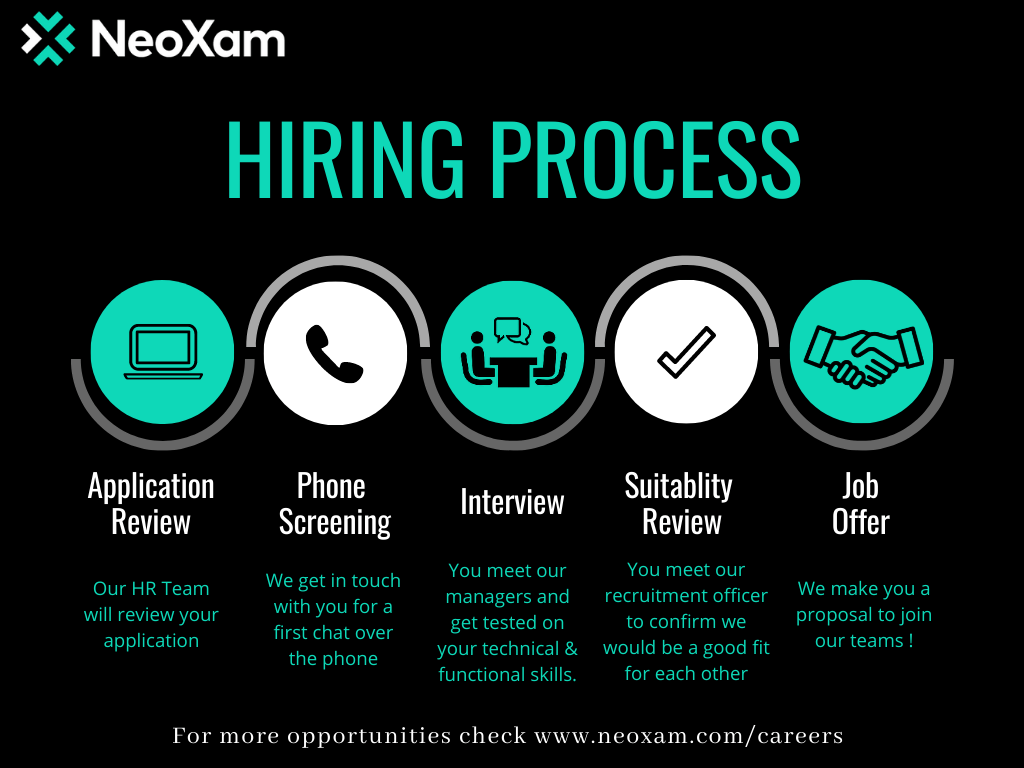 What advice would you give to people who want to join you?
Always be yourself in the interview. The interview should reveal a sincere exchange for the current times and also for the future.
Suggest a letter of recommendation or references
Prepare the presentation of your career path in a factual, structured and quantified way.
– Learn more about NeoXam (surf our site), go to Glassdoor and show us that we have a mutual love at the first sight!
Any last words to conclude?
NeoXam is both a young company and a company with strong historical solutions.
NeoXam is a company that takes into consideration the quality of life at work through QWL and CSR projects promoted through the Teamstrater platform.
NeoXam is a multicultural company that promotes diversity, respect for others, open-mindedness and adaptability.
NeoXam is Handi-capable! All our positions are open to people with disabilities.
Do you recognize yourself in this description? Join us on https://www.neoxam.com/careers/