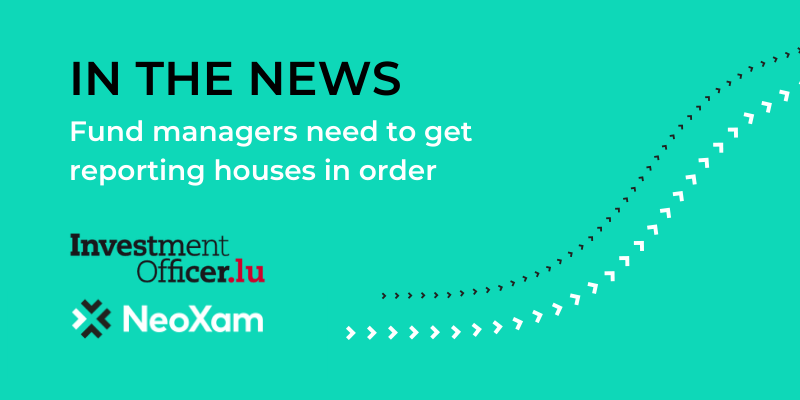 From Investment Officer Luxembourg:
A worldwide increase in regulation on client reporting and the need to provide better service to clients are driving asset managers to look hard at their client reporting objectives, according to a recent opinion article by Dominique Tomassoni, product strategy director for Digital/Client/Regulatory reporting solutions at NeoXam, a French financial software company.
In the story, entitled "Regulation is not the sole reason for fund managers to get their reporting houses in order", Tomassoni wrote that it all comes down to "trying to rationalise their reporting costs by rethinking the way they actually do reporting."
A pressing need
"With investors scrutinising performance daily and new regulations imminent that demand more reporting, there has never been a more pressing need for asset managers in the region to overcome their client reporting challenges," he wrote.
Since they realise that service matters for clients "both passive and active managers are trying to broaden the range of the services they offer, and they are trying to offer a service that goes beyond generating returns."
Argument for outsourcing
As an asset service provider, Tomassoni made the case for moving to an external, specialised provider offering "integrated data management capabilities, automation processes and digital monitoring to reduce costs".
Firms deciding to keep their reporting work in-house can face problems, he wrote. "Additional difficulties such as unexpected bouts of volatility in certain markets further increases the reporting burden faced by companies." He went on to recall "the fallout from the recent Archegos Capital saga."
"Volatility around the Viacom stock, underpinned by Total Return Swaps," he wrote, "has brought increased scrutiny on filings from rule makers."
No more box-ticking
Tomassoni concluded with a call to action in the Grand Duchy: "If investment managers in Luxembourg change their mindset around reporting and start reviewing their processes now, they will be well prepared to reduce costs and increase efficiencies. After all, if asset managers are to make an assessment on what constitutes efficient reporting to their investors, they need to have a completely different outlook on the task as opposed to seeing it as just a box ticking exercise."