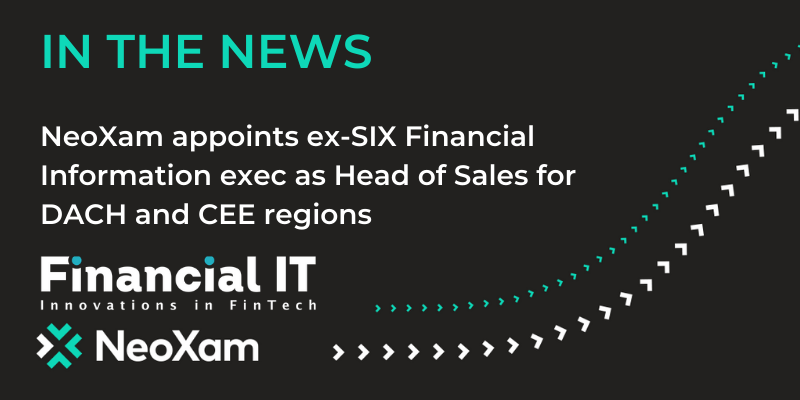 From Institutional Asset Manager:
NeoXam, a software company for financial markets, has appointed former SIX Financial Information MD, Mark Hembury, as Head of Sales for the Germany, Austria, Switzerland, Liechtenstein (DACH) and Central & Eastern Europe (CEE) regions.
Hembury held several senior roles across a six-year period at SIX, including Global Head of Sales and Account Management, Head of Global Sales Operations and Head of Strategic Account Management. With over three decades in the field of market and reference data, his experience also includes successful spells at Thomson Reuters, Moody's Investor Services, and Reuters.

Reporting into the General Manager of the DACH and CEE region, Philipp Sfeir, Hembury will be responsible for accelerating new business growth across NeoXam's product suite as well as helping develop existing client relationships.

"In today's world, data has become increasingly important in enabling financial institutions to succeed. In order to ensure this success, businesses must utilise premium technology as a key component of data strategies," says Hembury. "The need for customers to manage and leverage multiple data sources in an efficient and cost-effective manner was a key driver in my joining NeoXam. I look forward to working with such a successful, forward thinking team and to supporting the next stage of growth in the DACH and CEE regions."

Philipp Sfeir at NeoXam, adds: "Attracting someone with a wealth of market and reference data credentials to the team is a testament to the progress we are making as a business. With his significant level of experience and deep understanding of our product offering, Mark will be integral in servicing and expanding our client base as we continue to empower financial institutions to derive greater value out of their data."

Hembury, who started his new position in April, is based in NeoXam's Zürich office.