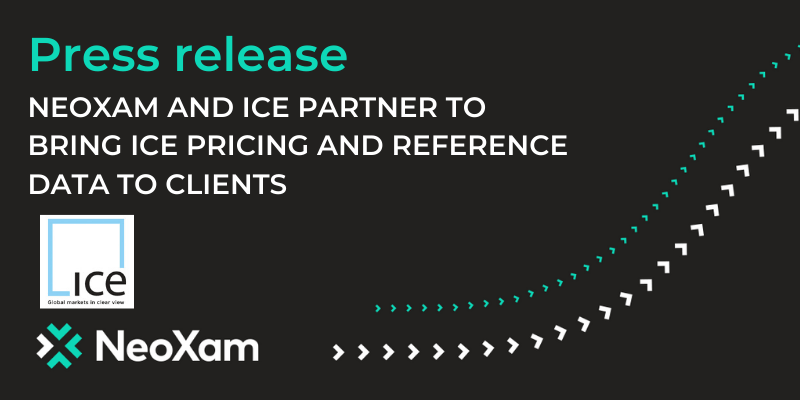 London, New York – September 30
NeoXam, a leading financial software company, has announced an enhancement to its partnership with Itiviti that enables buy-side customers to exchange FIX messages with the sell-side through the NYFIX Order Routing Network as well as leverage NYFIX Matching to streamline the post-trade matching process.
The arrangement strengthens an existing relationship with Itiviti and allows asset manager users of NeoXam's portfolio management system to directly interact, via the industry standard FIX electronic communications protocol, with the NYFIX trading community of over 1,600 market participants. The move, which removes the need for investment managers to build their own connectivity, comes as regulatory pressures increase demands on buy-side firms to carry out more trading electronically. Additionally, asset managers will benefit from NYFIX Matching, the FIX-based post-trade matching service, to shorten the settlement cycle and lower post-trade costs.
Joseph Cordahi, Product Strategy Director, at NeoXam, said: "This enhanced collaboration couldn't have come at a better time for investment managers, as demands to automate more of the trading workflow intensifies. FIX messaging has always been at the heart of trading communications for financial institutions, but the rapid changes we're seeing in global market structure makes this protocol even more important today. By integrating our proven portfolio management system onto the renowned NYFIX platform, we're able to deliver a richer trading experience to our global buy-side client base."
Jason Landauer, Head of Network Sales at Itiviti added: "As we continue to expand our NYFIX partnership base, working with companies like NeoXam enables us to continue to deliver an unrivalled service that connects buy-side, sell-side and trading venues across all asset classes."
The enhanced partnership builds on NeoXam's previous relationship with Itiviti, which provides buy-side customers with direct electronic access (DEA) to brokers for order execution through NYFIX and post-trade allocation, confirmation and affirmation through NYFIX Matching.
———-
About NeoXam – NeoXam is a leading financial software company, delivering solutions and services for 150+ customers in 25 countries worldwide. NeoXam is committed to its clients' success: we deliver reliable and scalable solutions, processing more than $14 trillion worth of assets per day and serving over 10,000 users. Through its combined talents and transparent approach, NeoXam helps buy- and sell-side players address the continuous changes in the financial market industry, to grow and better serve their clients. NeoXam relies on 500+ staff and is headquartered in Paris and has 14 offices across the globe.
For more information, please visit: www.neoxam.com
About Itiviti – Itiviti enables financial institutions worldwide to transform their trading and capture tomorrow. With innovative technology, deep expertise and a dedication to service, we help customers seize market opportunities and guide them through regulatory change.
Top-tier banks, brokers, trading firms and institutional investors rely on Itiviti's solutions to service their clients, connect to markets, trade smarter in all asset classes by consolidating trading platforms and leverage automation to move faster.
A global technology and service provider, we offer the most innovative, consistent, and reliable connectivity and trading solutions available.
With presence in all major financial centres and serving around 2,000 clients in over 50 countries, Itiviti delivers on a global scale.
For more information, please visit www.itiviti.com
Itiviti is owned by Nordic Capital.