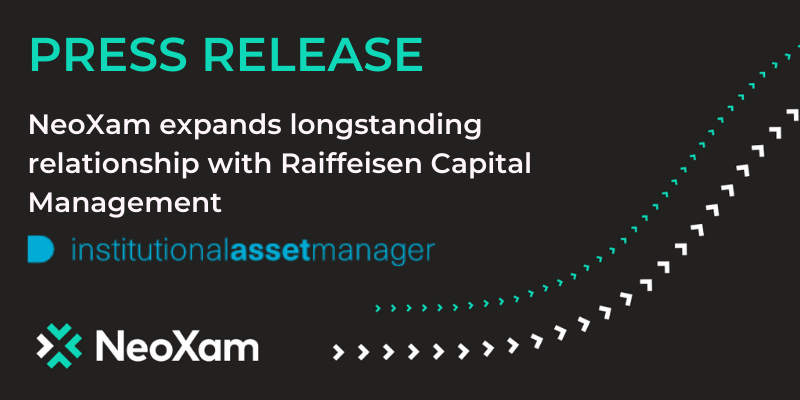 From InstitutionalAssetManager:
NeoXam expands longstanding relationship with Raiffeisen Capital Management
Financial software provider NeoXam has extended its relationship with Raiffeisen Capital Management, one of Austria's largest asset managers, for a further five years.  
Raiffeisen Capital Management, which currently has EUR36.3 billion in assets under administration (as of the end of May), has been using NeoXam's investment management solutions for over two decades. The new agreement includes improved features across the two solutions that enhances end user experience and drives increases in efficiency.
With increased interest in ESG funds, enhanced technology solutions are essential for asset managers looking to navigate this changing investment landscape. By continuing to work with NeoXam, Raiffeisen Capital Management is able to quickly adjust to these new market demands. At the same time, the company is further integrating its workflows that have been so far managed outside of NeoXam's solution through proprietary standalone tools.
Harald Frodl, head of fund service at Raiffeisen Capital Management, says: "A trusted partner for the long term, our extension with NeoXam guarantees continuity of our services, ensuring we are able to best serve our clients."
Philipp Sfeir, General Manager of the D-A-CH region at NeoXam, adds: "Our continued partnership with Raiffeisen Capital Management is testimony to our high commitment. We believe that, as a result of further enhancing our solution, Raiffeisen Capital Management will be able to seamlessly adapt to the changing environment to make even more informed investment decisions on behalf of its clients."