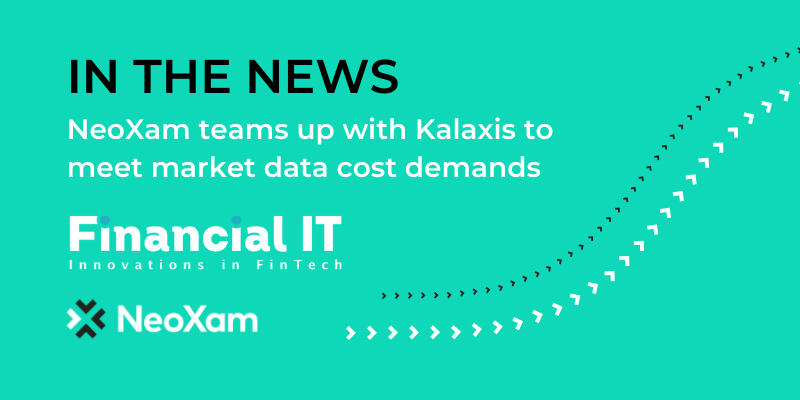 From Financial IT:
NeoXam are pleased to announce a signed partnership agreement with Kalaxis to address the growing demand for market data cost optimization and monitoring.
Kalaxis, a highly experienced consulting company specializing in helping financial institutions reduce their market data costs, and NeoXam, a leading financial software editor serving over 170 financial institutions, will collaborate to combine their knowledge and capabilities to deliver both consultancy and new software modules to support data cost optimization.
The demand from financial institutions for specialist external consulting expertise continues, driven by a combination of factors: the continual need to reduce market data spending, complex data vendor pricing policies, a lack of transparency of operational data flows and usage, and the growing competitiveness of the various data vendors and their offerings.
To address this, Kalaxis and NeoXam will partner to offer the proven rationalization review to identify all potential savings, delivered in a report with supportive and detailed metrics. These findings can then be delivered and managed over the long term, with the non-intrusive implementation of the optimization and monitoring modules.
NeoXam provides versatile, slicing and dicing, monitoring capabilities including alerts, which can track who is consuming what, when, and why. This solution can operate both standalone or as an add-on of the award-winning NeoXam EDM: DataHub.
Jean-Pierre Gottdiener, CEO and Founder of Kalaxis commented. "In the last 12 – 18 months, we have seen a substantial growth in demand from financial institutions of all sizes, buy and sell side, for our services. We are confident the partnership with NeoXam will prove to be very successful, and result in providing our clients are more complete solution to their needs."
Clément Miglietti, Chief Product Officer, NeoXam commented: "NeoXam are delighted with this partnership, when you consider the market demand and the outstanding reputation Jean-Pierre and Kalaxis have, proven as it is, through the delivery of many client projects, delivering multi-million dollars of savings."