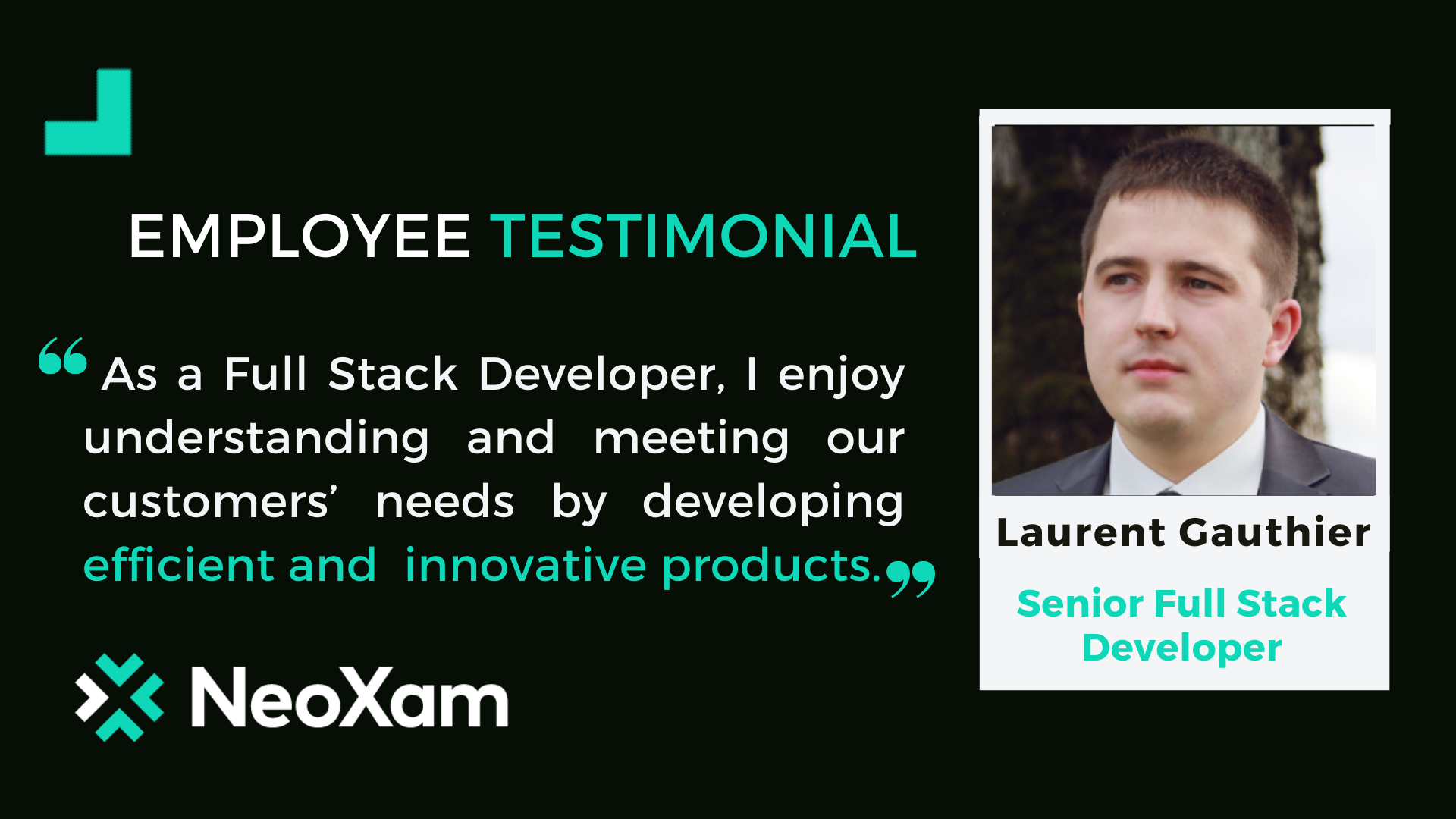 Employee Testimonial: Laurent Gauthier, Full stack Developer at NeoXam since February 2015
1) Can you please introduce yourself in a few lines?
I joined NeoXam in February 2015 and I'm now a Senior Full Stack Developer in the Digital Lab. The Digital Lab is a team of 15 developers who built the Digital App with a nice user interface and ultra-fast data flow. We design modern architecture to offer our internal and external customers the best user experience possible. I enjoy understanding and meeting our customers' needs by developing efficient and innovative products.
2) How did you end up in the world of IT?
I started building websites during the summer break when I was in high school. I continued my studies with a D.U.T. (University Diploma of Technology) in Physical Measurements and I quickly realized that software development was the right field for me. I finished my studies with an engineering degree at the University of Technology of Belfort Montbéliard, which allowed me to have a rather general vision of the various IT careers. I then joined a company as a web developer and that was it!
3) What does a typical day look like?
As a Senior Full Stack Developer, my job can be divided into 3 main parts:
1- Development. As a Full Stack Developer, I work on the entire code base from the back end to the front end, including some DevOps.
2- Customer contact. In order to make a good product, we need to understand the needs of our users. Customer contact via implementations and production monitoring allows us to have regular feedback and to improve  continuously our Apps.
3- Team management. as a Senior Developer, I help the juniors to increase their skills on our technologies and products.
4) What are your favorite parts about working at NeoXam? 
There are many advantages working at a software development company like NeoXam.
Firstly, my daily work is very close to the economy and financial news. This gives a lot of meaning to my daily tasks and keeps me up to date which what is happening in the world!
Secondly, I have learned many concepts and financial mechanisms which are very useful in my personal life! (Different types of amortization of a loan, investing and following investments in the stock market…)
Lastly, NeoXam's Paris office migrated to a full flex working environment where I have a great work/life balance – and I can better manage my time.
5) What advice would you give to someone who wants to join NeoXam R&D?
Joining a software editor like NeoXam allows you to work with several types of end customers and to specialize later in the world of insurance or asset management.
Be curious, the world of finance is a huge and exciting world!
Moreover, everything you will see in your professional projects regarding market finance will have a resonance in your private life.
In conclusion, if you are looking for more information, do not hesitate to contact me via our NeoXam LinkedIn page.