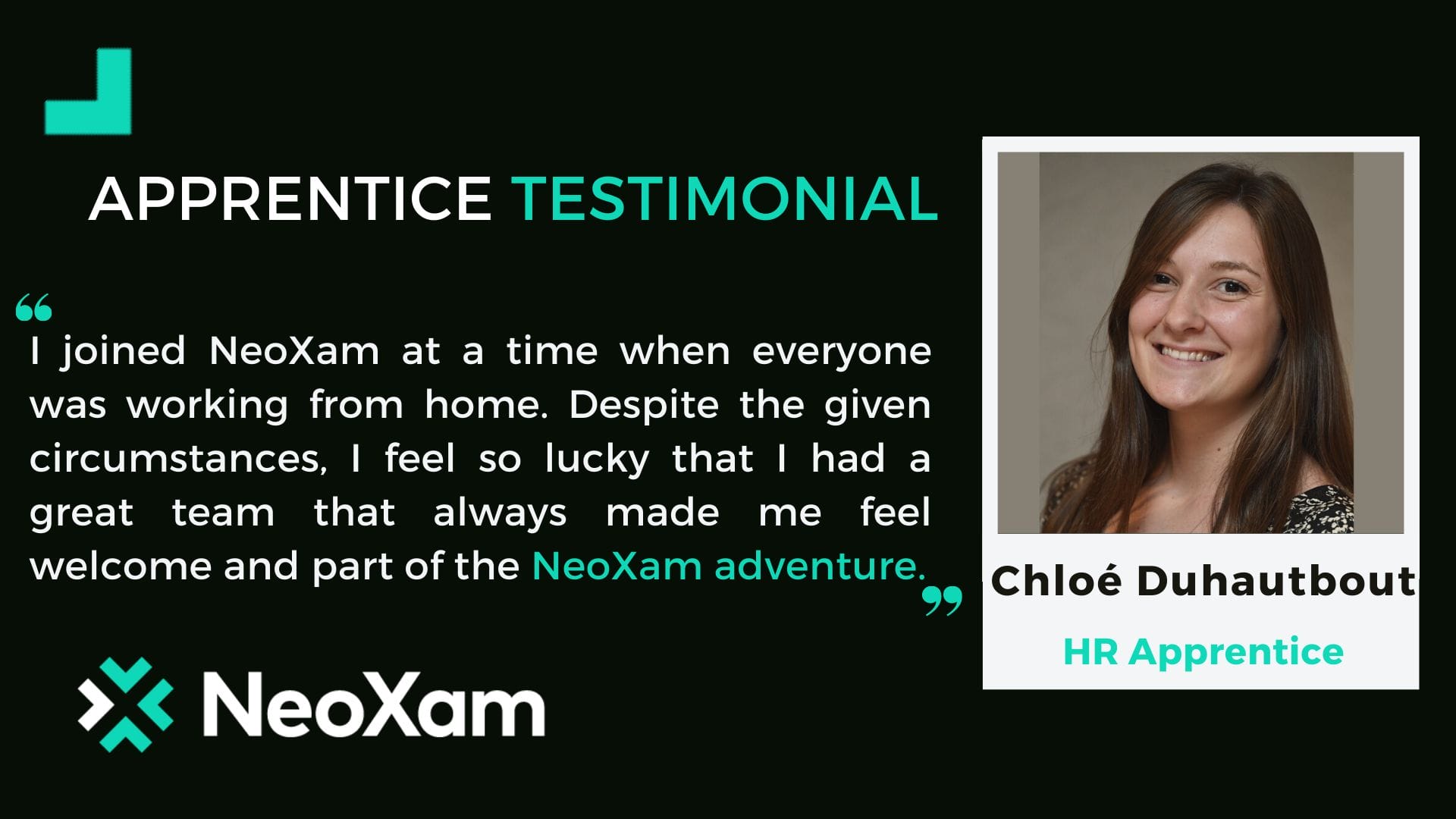 Apprentice Testimonial: Chloé Duhautbout, HR Apprentice at NeoXam
1) Can you please introduce yourself in a few lines?
My name is Chloe Duhautbout. I am 23 years old, freshly graduated from IGS RH and I have had the opportunity to do my apprenticeship within the HR department of NeoXam for the past 15 months.
2) Tell us more about your main mission at NeoXam?
I mainly worked on training and development and participated in the consolidation of training requirements, the organization of training courses and the company's overall training assessment at the end of the year. Additionally, I had the opportunity to work on other topics when the opportunity arose, such as the organization of an onboarding session – which was great – the analysis of career reviews as well as compensation and benefits worldwide.
3) What did you learn during your apprenticeship at NeoXam?
As it is one of my first professional experiences, I have learned a lot. Not only about the HR profession, but also what it is like to be part of a team and to integrate in a company.
4) What did you like most about your experience at NeoXam?
What I liked most were the assignments, obviously, because that is what is in line with my HR studies. I also really enjoyed welcoming and training the new apprentice who replaced me. But besides that, I loved the sense of flexibility at NeoXam. The company has adapted fully to new social customs, such as the flex-office concept, which is a huge advantage in terms of quality of life at work. What was very important for me were the people I worked with at NeoXam. I have been lucky enough to have great colleagues. I would say that there is a family spirit within the team, everyone is approachable and welcoming, it is very pleasant and motivating to work with such a great team!
5) Why did you choose NeoXam in the first place?
I chose NeoXam for several reasons. The first one was because of the how diversified the different tasks are. I think that that is the most important thing in a job. But many other elements weighed in the balance: the geographical location, in the heart of Paris, at la Place de la Bourse, is fantastic. And last but not least, the good feeling I had during the interviews with the people who made me enthusiastic about the family and welcoming spirit of the company. This made me want to be part of the NeoXam adventure.
6) Did Covid-19 have a big impact on your apprenticeship at NeoXam?
Honestly, a little bit, yes. I loved my experience at NeoXam and Covid will not take anything away from that, but I arrived at a time when everyone was working from home, and then there was the make-over of the Paris office to make it more flexible. In the end, it was only three months before the end of my apprenticeship that the situation returned to normal, with people coming back to the office, in a brand-new flex-office organization. So, it's not easy to fit in this new context and discuss something other than work with people you do not know. However, I consider myself lucky that I had a great team. I never felt alone, everyone always made me feel welcome and a part of the team.
7) Any final words?
Just thank you! Thanks to all the people at NeoXam for being available when I needed them, and especially to my HR team. I learned a lot during these 15 months. I will keep a very good memory of this super experience which makes me feel confident about my future career. So, once again, thank you to all the people who were involved 😊 !