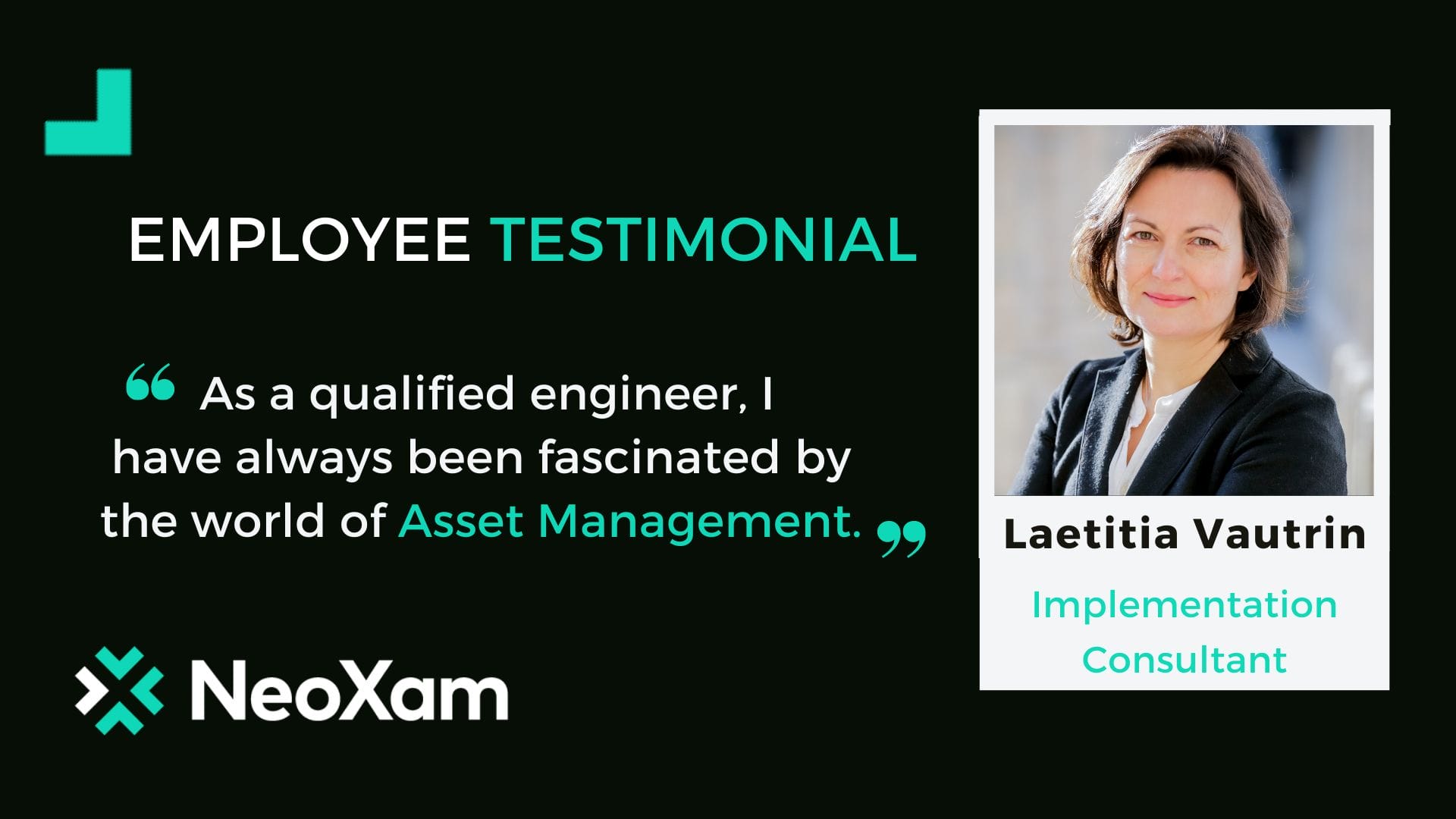 Employee Testimonial: Laetitia Vautrin, Implementation consultant at NeoXam since July 2020.
1) Can you please introduce yourself in a few lines?
As a qualified engineer, I have always been fascinated by the world of Asset Management, so it was naturally in this direction that I oriented myself at the end of my studies.
During my career, I alternated between direct Business Analyst / Project Manager positions with Asset Managers, and Consultant and Business Analyst / Product Manager positions with financial software vendors.
The first allows me to be closer to the needs of users and to really understand the why (and underlying reasoning); the second allows me to challenge my brain through problem-solving and coming up with an elegant solution which will adapt to multiple clients.
2) In your opinion, what does the job of an Implementation Consultant consist in?
The job of an Implementation Consultant consists in understanding the client's needs and translating them into a solution through configuration or development, which will best meet these needs. It is also an exchange and dialogue with the client which, over time, helps to establish a relationship of trust and proactiveness.
3) What do you think are the qualities required for this position?
A proactive approach to customers: listening to their needs, understanding them and offering effective solutions.
Curiosity: this is a fairly large area – you have to explore and seek new information on a permanent basis.
Rigor: Data Management brings together a large volume of data elements and each element is unique, and must be rigorously treated on an individual basis.
Organization: like with any project, you have to monitor the tasks to be performed, and new tasks are added every day. You have to schedule customer meetings to refine their needs and then organize yourself to carry out your tasks and dispatch them if necessary (internally to development teams, product teams or consultants).
4) What does a typical day look like?
It is difficult to describe a typical day since they depend on the stages of the project(s) we are working on. There will typically be Daily Meetings to share the progress of different projects, then meetings / workshops with clients and internal meetings to advance developments or collaborate with other consultants.
5) What do you like most about your job?
I like to work in project mode, as a team towards a common goal. Teamwork generates group synergy and complementarity in terms of skills and experience.
6) Why did you choose NeoXam?
I chose NeoXam thanks to my former "Sungard Finance" colleagues.
I am happy I can contribute to the core business of NeoXam: developing a software as a product, directly related to the success of the company.
This is a different perspective from working at an asset management firm, for instance, in which your role as a project manager might be more classified as support to other teams.
7) What are the prospects for the job?
After working as a Functional Consultant, there are several career paths available to me: strengthening my technical skills and becoming an expert; managing a team of consultants; or becoming a product manager.
Do you recognize yourself in this description? Join us by applying on www.neoxam.com/careers.