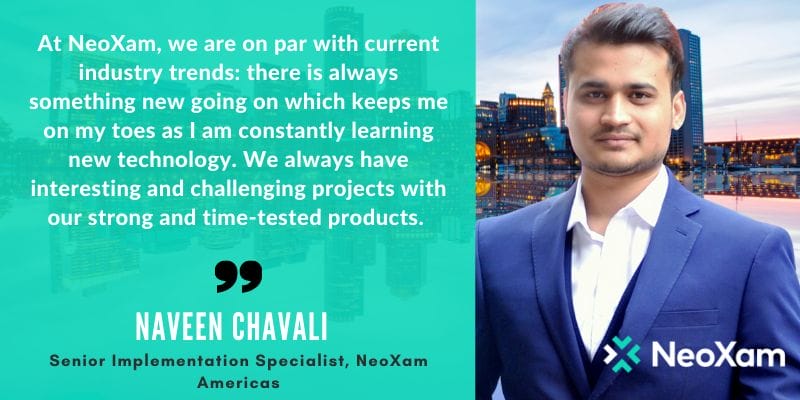 Employee Testimonial, Naveen Chavali, Senior Implementation Specialist at NeoXam Americas since 2017
1) Can you please introduce yourself in a few lines?
I completed my Bachelors in Engineering and started working with Jaro Education as an Assistant Team lead and then completed my Masters in Information Systems from Pace University while interning with W J Deutsch as a Data Analyst. Prior to joining NeoXam in 2017, I was working with Vertiv Inc as a Programmer Analyst specializing in Regulatory Reporting solutions (Federal and State) for Financial Institutions. I was responsible for leading the implementation at Canara Bank and Rabobank in New York during that time.
2) What is the role of an Implementation Specialist?
My role consists in implementing, designing and delivering projects for our clients under our Shared Services platform, as well as defining and enhancing our existing team processes. I assist the team with project implementations or product expertise, and work to improve our support process, providing technical support for our US Clients.
Currently, I'm working with our client (Vanguard) and helping them with their project implementation providing product and design expertise with NeoXam DataHub and implement solutions utilizing latest features offered by our product.
I recently also worked on a User Dashboard and Workflow project allowing customers to view and publish historic and current price changes from data provider, Bloomberg. The feature includes importing Bloomberg Recap Pricing files, Bloomberg Historic price files and downstream Data to reconcile them with NeoXam Datahub and publishing changes to Downstream systems following a validation workflow.
I also worked on designing a workflow leveraging third party API using SOAP requests to update Entities information in NeoXam DataHub.
3) What are your favorite parts about working at NeoXam?
At NeoXam, we are on par with currently industry trends: there is always something new going on which keeps me on my toes as I am constantly learning new technology. We always have interesting and challenging projects with our strong and time-tested products. This helps me learn not only the technical aspects but also the business aspects of our industry. I have gained exposure to some of the largest financial companies through our clients and prospects, which has given me an in-depth understanding of the ins and outs of what is happening on a daily basis, as well as helping me better improve our offering. Our company culture is fantastic – fast-paced – and I work with a wonderful bunch of colleagues.